Mexican vendors eye gains from U.S., China tariff tiff
Time:2019-02-26 11:14:47 Share:
Mexican furniture manufacturers say they are poised and ready to grow their business with the U.S. market, regardless of how tariffs on Chinese-made product affect the ability to source not just in China, but other parts of Asia with more limited capacity.
That was a key message at the recent Expo Mueble Internacional held in Guadalajara from Feb. 13-16 at Expo Guadalajara, with a wide mix of furniture and accessories from about 550 manufacturers, most of which are from Mexico. The rest were from countries including the U.S., Canada, China and Turkey seeking growth opportunities in the Mexican market.
There was a heavy emphasis on Mexico's wood-making capabilities in master and youth bedroom as well as dining, occasional and accent furniture. In addition, there was a wide mix of leather and fabric stationary and motion upholstery.
For many manufacturers, the show coincided with increased interest from buyers in the U.S. market seeking opportunities outside China and other parts of Asia, including Vietnam. While the costs in Asia are considered lower than in Mexico, the potential of higher tariffs on Chinese-made goods made Mexico an attractive prospect.
"With or without tariffs, we see the American market is picking up," said Jaime Menendez, who handles business development for Maderarte, an upper-middle price resource of wood bedroom, dining and living room furniture. He added that proximity to the market along with favorable exchange rates also make Mexico a compelling option.
"It makes us competitive and reduces our risk," he said, noting that the company offers mixed container programs and low minimums.
"Small quantities for Mexico may be in the dozens, but for China, it may be in the hundreds," he said of the minimum SKUs required with an order.
Case goods manufacturer Issa Muebles showed a line of mostly mid-priced wooden bedroom and dining room furniture. Challenges in Asia present the company an opportunity to reclaim some business lost to China around the recession.
Starting around 1995, the company did about 50% of its business in exports, primarily to the U.S. and Canada markets. Today, that is no more than 20% thanks to competition from China, with the balance sold to the domestic market.
But the company believes it can regain some of that lost business thanks to available capacity at its 280,000-square-foot factory in Chihuahua, which employs about 320 workers. The company also has room to expand, noted Jorge Issa, president, who said the company received some interest from U.S. buyers at the show.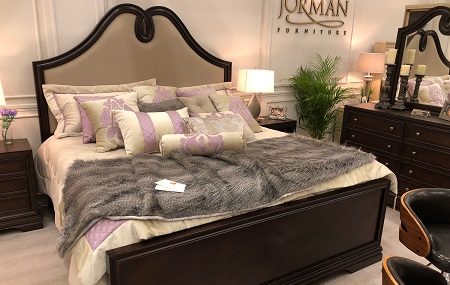 Jorman Furniture's Lariat bedroom features this panel bed with an upholstered headboard, which would retail around $799 in the U.S.
Case goods manufacturer Jorman Furniture showed a line of bedroom furniture also around middle price points. While half its business is export — with 100% of that going to the U.S. and Canada markets — it, too, is looking to grow its business in the U.S., particularly as prices have softened in the Mexico market.
"The medium end is struggling," said company President Jorge B. Giacoman, of business in Mexico. This, he said, has resulted in a "step back in price points. The very low end is doing well. The domestic market is going down in value."
He noted that the company is in a strong position to grow in the U.S. market as it has available capacity at its Mexico production facilities.
"We have capacity if a retailer wants to grow with us," he said, noting that the company used to sell to wholesalers, but today primarily sells retailers direct from its factory. Like most other factories interviewed at the show, lead times are about six weeks, while in-stock product can ship in 10 to 12 days.
Upholstery manufacturers Boal Muebles and Zarkin Furniture reported strong traffic at the show and were hoping to see some business from the U.S. as a result.
Boal only does about 20% of its volume in exports with most of that going to Central and South America. With business to the U.S. in the mid-single digits, the company is hoping to change that, noted Mario Rubin, sales director.
He said that Mexico makes sense to the U.S. market due to logistics, lower lead times and flexibility offered in its manufacturing, namely customization in leathers, fabrics and frame styles. While he said Boal's styles are geared largely toward Latin American tastes, he believes this is an opportunity to reach niche markets in the U.S.
"I see Florida and California more open to our styles, which are more contemporary and transitional," he said. While Boal has some room to expand at its current production facilities, it would likely have to open new facilities for new accounts in the U.S.
Upholstery resource Zarkin specializes in leather upholstery, much of which is made with high-quality Italian leathers as well as leathers from Germany, Argentina and Uruguay. Some 80% of the company's sales are domestic, with the balance exports, including 15% of that to the U.S.
Company Director Alan Zarkin said the company is at full capacity at its 250,000-square-foot production facilities in both Guadalajara and Lerma, but it is looking to add nearly 120,000 square feet for production for export markets.
In addition, the company is looking to lower its lead times to about four to six weeks, down from six to eight weeks currently.
Based on interest from international buyers at the show, the company believes it can fill up its additional capacity fairly quickly.
"We are seeing customers from Mexico, South America and some from the U.S.," Zarkin said. "We are looking for this show to give us more potential with the U.S. market."
Final attendance figures were not available, but show officials were expecting about 15,000 visitors at the four-day event.
Attending for the first time was Ed Wilson, a Georgia-based sales, marketing and design consultant who was attending with his wife, Denise, a partner in the business, Eddie Furniture Designs.
"I was impressed with the number of manufacturers/wholesalers showing and the breadth of product on display," he said. "We saw some very desirable styles, amazing finishes and sound quality throughout the entire market."